Posted September 25, 2017 in Bariatric Surgery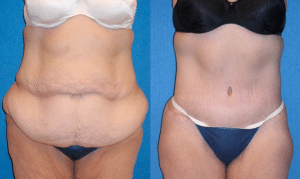 Deciding to undergo bariatric surgery can be both a scary and anticipatory process, and losing the weight after surgery can be strenuous. When you step on the scale and finally see the number you've always wanted, there is likely a feeling of satisfaction in your success. However, there can also be a sense of disappointment in your appearance. For many people, losing weight is only half the battle in achieving the body they've always wanted. Folds of excess skin may be obscuring the new, fitter you.
Why Do I Have All This Extra Skin?
Excess folds of skin following bariatric surgery are extremely common. Genetics as well as the extent of your weight loss will play a significant role in how your resulting skin will look. The skin loses elasticity over time, and this process is expedited the longer and further the skin is stretched. When people lose dramatic amounts of weight, the skin cannot return to its original elasticity and shape. What's left are flaps of skin that used to be stretched out with fat but are now loose.
Unfortunately, these folds of skin are resistant to diet and exercise, and it can be impossible to eliminate them through "natural" means. Most patients require body contouring following their bariatric surgery, which helps shape and define the contours of the body.
What Are My Body Contouring Options?
Scheduling a Body Contouring Consultation
All of our patients are unique and have different body contouring needs. Just like no two people lose weight in the same place, each person will have different trouble areas after weight loss. Your consultation is a vital step on your journey to your ideal body. It may have been years since you've seen yourself this fit, and you may struggle to properly envision what your leaner, more toned body will look like. As one of the country's leading cosmetic surgeons for body contouring after massive weight loss, Dr. Green is an expert at sculpting beautiful bodies. Body contouring isn't just about removing skin; it's about using an artistic approach to restore balance, craft curves, and enhance your hard-earned work.
If you are ready to reveal the new you, schedule a body contouring consultation with Dr. Green today. You can call our office at (916) 929-1833, or you can contact us online.