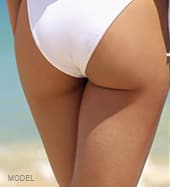 Get Smoother and Sounder Thighs
Women are generally all too aware of their problem areas. For many women it is their thighs that they are least comfortable with. For some it is the saggy skin around their thighs, perhaps following weight loss. For others it may be the cellulite "dimples" that are causing them concern. Some things just don't seem to improve, even with the "thigh master."
Following significant weight loss, skin around the thighs may fail to tighten up. Even in instances where the weight loss has not been extreme patients may experience loose and sagging skin in certain areas. Both the inner and outer thighs are areas especially prone to stretched and sagging skin. A thigh lift is just one of the many procedures performed for weight loss patients, and many people who have a thigh lift also have lower body lift, abdominoplasty, or liposuction in Sacramento.
While diet and exercise may not restore the desired contour of your thighs, a thigh lift procedure can. A thigh lift procedure can tailor the skin around your thighs to achieve an even firmness. In some instances large amounts of skin may need to be excised. Additionally, for optimal results liposuction of the thighs may also be recommended and can enhance the appearance of the thighs by removing cellulite. Whatever your specific needs are let Dr. Scott Green put his experience and skill to work for you, and inform you as to what benefits you can expect to receive from a thigh lift procedure.
What You Should Know About Thigh Lift Surgery
The thigh lift procedure is performed under general anesthesia on an outpatient basis unless otherwise advised by the surgeon. It can be very effective in producing a tighter, more attractive thigh and buttock area by improving contours and diminishing irregularities in the skin surface. There are significant variations in the design of the incisions to meet clothing or personal desires. There are numerous options and techniques with thigh lift surgeries, such as the Lockwood technique, favored by Dr. Green. These variations and techniques can be discussed in detail with Dr. Green.
Following surgery the patient is placed in a compression garment to reduce swelling and assist in the natural shrinking and tightening of the skin. Patients should expect to wear the compression garment for at least two weeks. Some swelling, bruising and discomfort should be expected for the first few weeks. This is usually easily controlled with prescription pain medication. Patients should be able to resume their non-strenuous work activities within two weeks. Strenuous activities are usually possible in six weeks and almost all symptoms are gone in 4 to 6 months.
Dr. Green can perform thigh lift surgery on its own, or in combination with other cosmetic procedures such as liposuction, a buttock lift, or a tummy tuck in Sacramento.
How Thigh Lift Surgery is Performed
Lifting the inner thighs may require only short incisions extending from the anterior part of the thigh/groin crease around to the buttock crease, or an incision extending from the groin crease to the knee may be necessary in severe cases. Lateral or anterior thigh lifts are usually performed as separate procedures. The buttocks can be lifted through the same incision used to lift the outer thigh and is usually just an extension of the abdominoplasty scar.
Your First Step
Unlike some Sacramento plastic surgeons, Dr. Scott Green places great importance on the value of the in-person consultation. He looks forward to meeting with you to learn more about your aesthetic goals. Request a consultation with Dr. Green online and discover what results you can achieve through thigh lift and other body contouring cosmetic surgery options.