"Beauty is a form of genius — is higher, indeed, than genius, as it needs no explanation"
– Oscar Wilde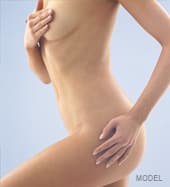 What is your perception of beauty? Is it influenced by advertising, super-models and movie stars? The truth is that most plastic surgery patients will not (and do not wish to) be on the front cover of a swimsuit magazine. We are all relentlessly bombarded by other people's view of what beauty is or should be when what really matters is our personal perception. Sacramento plastic surgeon Dr. Scott Green takes the time to understand your view of beauty, and through his skill and experience, helps plastic surgery patients reveal it in a safe and healthy manner. Sure, it is really what is on the inside that counts. But why not partner with a doctor who can help your outside match your inner beauty as well?
Body Contouring Procedures Offered
Dr. Green performs the following body contouring plastic surgery procedures in Sacramento and Roseville:
Dr. Scott Green understands the importance of the in-person consultation. He looks forward to meeting with you to learn more about your aesthetic goals. Request a consultation with Dr. Green online and discover what results you can achieve through body contouring or other plastic surgery options.