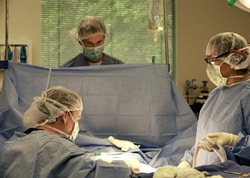 At age 18 the last thing I wanted to do was admit my breasts were beginning to sag, but as the problem progressed, I only felt more self-conscious and physically uncomfortable.
By age 26 I was ready to address this issue and consider my plastic surgery options. Because this was such a private matter, I was hesitant to discuss the subject with anyone but eventually opened up to my family and friends.
Despite my own research and various consultations, it wasn't until I met with Dr. Scott Green, that I felt hopeful and secure about the idea of cosmetic plastic surgery in Sacramento. He was very clear and informative without being overwhelming. Additionally, Dr. Green was very sensitive, as was I, when discussing the option of a breast lift and/or breast augmentation. At his Sacramento practice, we decided together that the most effective plan was to lift the breasts while maintaining a natural look and feel with minimal scarring. For me this meant a crescent incision through the nipple with a silicone breast implant placed under the muscle.
Dr. Green took the extra time to retrieve an archive photo that would best show the expected results of my surgery. This in addition to seeing Dr. Green's "perfect stitch" on a family friend/patient assisted in my decision. Finally, the professionalism of the administrative and office staff secured that my surgical experience was flawless.
Thanks to Dr. Green's skill and personalizing each detail of my surgery, all of my expectations were met.
Sincerely,
C.
* Individual Results May Vary *
---
For the last 15 years I have wanted to have plastic surgery on my face.
I had talked to surgeons a few times in the past and did not feel comfortable enough to follow through.
I met with Dr Green to discuss my options in February. He was thorough in explaining the procedures I would need and what to expect after the surgery. I was totally comfortable with Dr. Green and his wonderful staff that I scheduled my surgery ASAP.
I had a neck lift, brow lift, and excess skin removed from my lower and upper eye lids. I was uncomfortable for a few days after the surgery but never in pain.
My friends all say I look 20 years younger and I feel 20 years younger.
My husband tells me daily how wonderful I look. He now has decided to have a face lift also.
This has been the best experience in my life.
L.H.
* Individual Results May Vary *
---
Dear Dr. Green:
I wanted to write you to express my gratitude for all the wonderful work you and your staff have done for me over the past year or so. As a gastric patient, I've been struggling with my weight and self-image for many years – a very painful way to live my life.
After losing the weight with the gastric surgery, I was left with a lot of sagging skin that made me self-conscious.
My friend Barbara, who is also a gastric patient, had worked with you and your staff, and had nothing but wonderful comments about her treatment and results. This inspired me to take a chance and address my final weight-related issues.
Now, after the tummy tuck, breast lift, arm lift, thigh and butt lifts, I am a new woman. I'm told I look at least 15 years younger than my age, and am really enjoying the compliments and attention I'm getting. I'm finally really enjoying my life and having a ball!
During the entire process I have really appreciated your kindness and sensitivity to my body issues. You were careful to advise me on what was the best treatment strategy to achieve the best results, and I am thrilled with the outcome. You and your staff were warm and patient with me, explaining what to expect clearly and were very supportive with any concerns I had. I approached the process with more confidence because I felt that I had a pretty clear picture on what to expect.
That amount of cosmetic surgery is a challenge to go through at best, but the results are more than worth it.
A million thanks to you and your staff! I am finally happy and at peace with myself. A rare gift to give someone. I'm also enclosing a photo of me in Las Vegas …. Not bad for a 51-year old, huh?
Sincerely,
M.R.
* Individual Results May Vary *
---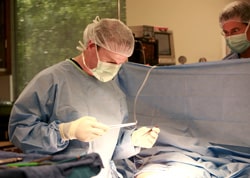 Dear Dr. Green,
I am writing you this letter to thank you for your gift of art and healing.
You and your staff Teresa Andrews, Kelly, Rosie, and a very kind surgical nurse who put in my IV (R.N. from east coast who is a massage therapist also) I don't remember her name.
You and your staff have all been so kind, I felt safe, you all seam to care about me, and that means a lot.
The surgery went great and I look wonderful I am so happy!
So many times in life we don't know how we affect someone you have been so gracious and kind.
Thank you for making this affordable for me. You are a great man as well as a Doctor Dr. Green
With gratitude Thank You all So Much.
B.H.C., C.M.T.
* Individual Results May Vary *
---
Dear Dr. Green,
When I woke up this morning I felt "normal" and feminine again. I cannot believe the success of the operations.
I find myself being so grateful to you for helping me to have a second chance. I will never forget our first meeting, your kind words and intense look assured me I was in good hands.
Words cannot express how much I appreciate your dedication to the progression. You are an amazing doctor and a sincere person.
I have enclosed a small gift for you as a token of my appreciation.
Maybe one day you will go to England with your family and enjoy the "quick-side" of Britain. I hope so, you would have a great time.
Kind regards,
P.
* Individual Results May Vary *
---
Dear Mr. Ross,
This letter is to commend Dr. Scott Green for his work as my surgeon.
Not only is he skilled and knowledgeable, but his professional manner is outstanding.
He always shows his concern and understanding and he communicates with me in a manner that makes me feel extremely comfortable and at case. He is a great encourager and takes time to be of help with my overall health as well as the plastic surgery he has performed. He is always willing to do a little extra to lookout for my well being. He has taken special effort to assist me as I wage the war against several cancers.
He has been instrumental in my being able to maintain a positive attitude when faced with multiple challenges with my health.
I feel that he had been a gift to me both professionally and personally. He always makes time to see that I have all the care I need. He is to be recognized for his many strong character traits that make him an outstanding person and for his professional skills that make him a truly fine surgeon.
Dr. Green is truly an asset, to the Sacramento Plastic Surgery' Center and to all of his patients and colleagues.
Sincerely,
J.S.
* Individual Results May Vary *
---
When I was faced with the diagnosis of breast cancer, I was devastated and frightened.
A lumpectomy did not resolve the issue and I was faced with a mastectomy. I opted for immediate reconstruction, and chose Dr. Scott Green as my plastic surgeon. I have never regretted my choice.
Dr. Green was instrumental in my decision to have a double mastectomy, as my breast cancer was the type that could likely mirror in the other breast. He understood that this was a very emotional decision for me, and consulted with me and my daughter and explained in great detail what to expect. He did not give me any false hopes, but instead gave me accurate information.
I did not know what to expect, because the first doctor I consulted with had painted a very bleak picture. Dr. Green was very forthright, stated that we would get "as close to the real thing as possible", but admitted they would not be the same as they had been before. He knew how devastating this was to a woman, and said if this happened to his own wife, he would advise her not to even go through with a reconstruction.
My most frustrating experience was living with the tissue expanders, as one was higher than the other. I was convinced that I would be forever lopsided, but Dr. Green assured me that the final outcome would be good. He was so right! He also allowed me to voice my preference in breast size, because I had always wanted to be reduced.
From the start, I experienced warmth and very genuine care from Dr. Green. Due to other health crises that interfered with my treatment, my experience lasted for 18 months. During that amount of time I was able to develop a good relationship with my doctor and his staff. From scheduling the surgeries (there were several) with Andi Brewer to the post-operative care, the experience was very positive.
When I was ready for the nipple reconstruction, Dr. Green and his assistant Mo let me decide the placement and the color, which allowed me to have a say in the final outcome. I am finally put back together, and am very happy with the results. I feel like a woman again!
Throughout this ordeal, I never felt my fears or concerns were pushed aside. Breast cancer is a devastating experience. Breast reconstruction is a very personal event. It is common to want a woman to do this type of surgery. But I highly recommend Scott Green, MD and the Plastic Surgery Center.
S.L.
* Individual Results May Vary *