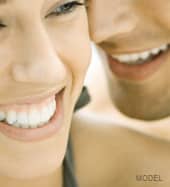 Bring Balance To Your Face With a Chin Augmentation
Whether it is work and home or business and pleasure, all of us are trying to achieve some form of balance in our lives. Some people are trying to achieve more balance in their physical characteristics. If you feel that the symmetry of your facial features is "out of balance," chin augmentation surgery may be the answer for you. Typically, Sacramento cosmetic surgery patients electing such surgery want to achieve more prominent chins in order to achieve an aesthetic balance of their features.
Chin augmentation is a common procedure that brings balance to the facial structure by way of correcting a weak chin due to congenital deficiency, age-related bone resorption or facial trauma. A weak chin can also make a normal nose appear large and an already prominent nose seem even larger. It may also give the appearance of a 'fleshy' neck. On the other hand, a too prominent chin may give the appearance of having too small of a nose or otherwise throwing the face off balance. The end result should be a balanced, proportional relationship within the structure of the face. While chin enhancement can be a relatively simple procedure, it requires good judgment, skill and an aesthetic eye. Dr. Scott Green is a Sacramento cosmetic / plastic surgeon who has the skill, experience and artistry to optimize your results.
What You Should Know About Chin Augmentation
Along with the nose, the chin provides a primary visual reference point for the contour lines and angles that define aesthetic attributes of the face and neck. A chin augmentation surgery can be performed independently or in conjunction with a Sacramento rhinoplasty, facelift or other facial cosmetic surgery options. Its improving effects are generally permanent. Patients who undergo the chin augmentation procedure can expect to feel a degree of numbness in their chin that usually disappears within one to three months. Sometimes a chin brace is recommended during sleep to allow your tissues and implant(s) to heal in the best position possible and prevent shifting in the first few weeks of your recuperation. During recovery the patient should keep their head elevated to reduce swelling and improve recovery time. Typically a patient can expect to be back to work in a week with swelling and bruising dissipating after the first week or two.
How Chin Augmentation is Performed
Chin augmentation surgery lasts about an hour. The procedures can be performed with either a local or general anesthetic, depending on patient and surgeon preferences. The surgeon may use some bone or fat from your body, or a synthetic implant. The implant is placed into a pocket under your chin or through your mouth, along the lower lip. Usually, the chin is taped after surgery to minimize swelling and discomfort. Sutures are usually removed in five to seven days. Chin implants conform to the bone and are usually undetectable. The implant is generally sutured to bone or attached with titanium surgical screws.
As with any cosmetic surgery, be sure to follow your Sacramento plastic surgeon's instructions regarding taking medications and vitamins, eating, drinking and ceasing smoking.
Your First Step
Unlike some Sacramento plastic surgeons, Dr. Scott Green places great importance on the value of the in-person consultation. He looks forward to meeting with you to learn more about your aesthetic goals. Please request a consultation with Dr. Scott Green to discuss whether a chin augmentation procedure can help you gain "balance" to the structures of your face, or call 916-929-1833 for your appointment.