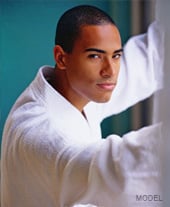 Gynecomastia is the abnormal development of breasts in males. This disorder begins in almost half of adolescent boys and resolves at the time of puberty for the vast majority. However, the condition can continue into or become a problem during adulthood, causing many men to consider a Sacramento cosmetic surgery procedure for adequate treatment. Many cases of gynecomastia are idiopathic, meaning there is no known cause. Some potential causes of it are medications with hormones, decreased testosterone production and chronic liver or kidney disease. It has also been related to certain recreational drug use and steroids.
For men who feel self-conscious about their appearance, you may wish to schedule a consultation with Sacramento cosmetic / plastic surgeon Dr. Scott Green to discuss your treatment options. Gynecomastia may be addressed through cosmetic surgery procedures, including reduction mammoplasty, liposuction and skin sculpturing techniques. If excess glandular tissue is the primary cause of the breast enlargement it will be excised with a scalpel. The excision may be performed alone or in conjunction with liposuction in Sacramento. Ordinarily the incision is made in an inconspicuous location, such as a small periareolar (nipple) incision, or near the armpit. If excessive fatty tissue is the primary cause of the enlargement the excess fat will likely be removed with liposuction. If liposuction is used to remove excess fat, the cannula is usually inserted through the existing incisions.
Your First Step
Unlike some Sacramento plastic surgeons, Dr. Scott Green places great importance on the value of the in-person consultation. He looks forward to meeting with you to learn more about your aesthetic goals. Request a consultation with Dr. Green online and discover what results you can achieve through male breast reduction and other cosmetic surgery options.