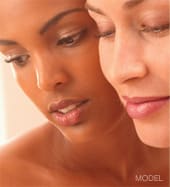 Revive Your Youth With A Brow Lift
Our brows are affected by stress, age, and facial expressions. They are also affected by our genetics. This area of the face expresses silent messages to those around us. If you have a "furrowed" or wrinkly brow, you may look older, more tired, or sadder than you feel. Forehead lift surgery, also called a brow lift, helps Sacramento women and men restore a more youthful, refreshed look to the area above the eyes. It can correct drooping brows and improve the horizontal lines and furrows that can make a person appear angry, sad, or tired.
All About Brow Lift Surgery
There are various types of brow lifts which Dr. Scott Green, Sacramento plastic surgeon, can perform, depending upon which one is right for you. With a coronal brow lift, an incision is made in the hairline that is hidden from view. The incision follows along the top of the head, in a "headphone" like pattern. This procedure allows for the eyebrows to be raised, correcting drooping eyebrows, and also for smoothing for wrinkles on the forehead. For other patients, Dr. Green may recommend an anterior hairline brow lift, which places the incision along the front of the hairline.
Another type of brow lift is called an endoscopic brow lift. This Sacramento cosmetic surgery procedure is performed through a series of very small incisions within the hair line, in most cases leaving no visible scars. A tiny camera (an endoscope) is inserted through one of the incisions which enables Dr. Green to visualize the muscles and tissue beneath the skin. Through this procedure Dr. Green can elevate the brow, and smooth the appearance of the brow by removing frown lines between the brow. However, the endoscopic procedure is not particularly effective in removing the transverse lines from the forehead.
Decisions affecting which type of incision is right for your brow lift will depend on your hairline, the desired effects of the surgery and other conditions which you can discuss with Dr. Green.
Your First Step
Unlike some Sacramento plastic surgeons, Dr. Scott Green places great importance on the value of the in-person consultation. He looks forward to meeting with you to learn more about your aesthetic goals. Request a consultation with Dr. Green online and discover what results you can achieve through brow lift and other facial cosmetic surgery options.