Plastic Surgery Staff Sacramento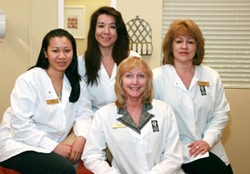 Sacramento plastic surgeon Dr. Scott Green is dedicated to providing you with the best care and treatment possible from the moment you elect to have surgery to the end of your recovery. You should know that when you make the choice to have Dr. Green serve as your plastic surgeon, you are also choosing the most experienced and talented plastic surgery staff in the area.
Our friendly and professional front office staff is here to make the scheduling of your appointments, consultations and post-operative visits with Sacramento plastic surgeon convenient and efficient. We recognize your time is valuable and so our staff's efforts help ensure that you are seen in a timely manner and any rescheduling or delays are kept to an absolute minimum when you visit our Roseville and Sacramento cosmetic surgery offices.
Our talented and respectful Patient Coordinators offer their assistance at every turn. Kelly and Rosie in Sacramento and Robyn at our Roseville office have combined experience of more than 50 years serving plastic surgery patients. They are knowledgeable, informative and helpful in making your experience with our office as pleasant and stress-free as possible. Initially they will be your contact prior to surgery, helping answer any questions you may have about any pre-op issues, general care, payment options including financing, as well as your post-operative care and recovery.
Dr. Green's talents for performing Sacramento cosmetic plastic surgery are complemented by an equally talented and devoted surgical staff, headed by Theresa Andrews. The nurses at our facility have over 100 years of combined experience ranging from emergency room procedures to surgical intensive care. So when you make the choice to have Dr. Green do your cosmetic surgical procedure you can rest assured that your care will also be in the hands of the most compassionate and skillful plastic surgery nurses in the business.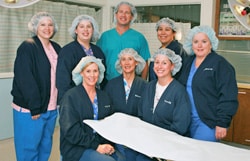 The surgical technicians, lead by Sunny Rios, are all experienced professionals, dedicated to ensure that you receive the optimal result from your surgery experience. Sunny has been with the Plastic Surgery Center for more than 15 years. While technicians do not perform any surgical operation they are nonetheless an integral part of the surgical team. Their assistance in preparing the operating room and the patient for surgery, is indispensable.
Our back office staff is responsible for your primary care following your surgical procedure. Their responsibilities include removing stitches, dressings and other post-operative issues. Like all or our staff, they are well-informed, experienced and will answer whatever questions you have. So through all steps of the process, including recovery from the procedure itself, you can be certain that your needs are being addressed by caring and competent staff members in addition to Dr. Green himself.