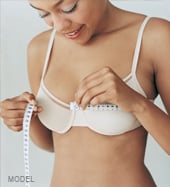 Relieve Discomfort from Large Breast
While some people think that large breasts represent femininity and beauty, many women with large breasts believe that too much of a good thing is not a good thing. For them, less would be better. These "well-endowed" women have had to restrict their athletic activities because of the size of their breasts, have had to live with chronic neck and back pain due to the weight of their breasts, and may have consequently developed poor posture. On top of all that they are tired of the unwanted attention or comments their breasts attract. For a positive change, many women choose breast reduction in Sacramento for firmer, lighter, and better-shaped breasts that are in proportion with the rest of their body.
As technology advances and surgical techniques improve, more women are turning to plastic surgeons to help them adjust their breast sizes to a healthier and more comfortable level. For them, it does not only change their appearance, it can relieve discomfort, free them up to engage in physical activities, and transform a source of embarrassment or discomfort into something they are proud of. It is little wonder that women who undergo breast reduction surgery generally exhibit a very high degree of satisfaction with the procedure.
All About Breast Reduction Surgery
Breast reduction surgery is a procedure that tends to rank very high in patient satisfaction. Although it is a complicated surgical procedure, when performed by Sacramento plastic surgeon Dr. Scott Green, it is safe, effective, and life-style improving. Dr. Green may request that you have a mammogram performed prior to undergoing this procedure.
As with other breast enhancement procedures such as breast augmentation and breast lift in Sacramento, following the procedure the patient's breasts are bandaged. Plastic drainage tubes may be inserted for the first day or 2. It is typical for women to experience swelling, aching and some pain for the first few weeks following this procedure. The pain level is ordinarily maintained at a minimal level through the use of occasional pain medications. Strenuous activities should be avoided for the first month following the procedure. Many patients are able to return to work in as early as 1 week. Some patients note a change in the feeling of their nipples and breasts due to the removal of some nerves. Breast reduction does result in permanent scars, however they are positioned in such a way as to be as inconspicuous as possible, and are generally well concealed with a bra or bathing suit. If patients intend to breastfeed they are encouraged to postpone this procedure as it can affect one's ability to nurse.
How Breast Reduction Surgery is Performed
Breast reduction surgery is performed under general anesthesia. Ordinarily it takes 2 to 4 hours. Dr. Green makes incisions in order to remove excess tissue, fat and skin. Nipples will be repositioned in a more attractive position on the contour of the breast and the skin will be tightened to produce a firmer, fuller look to the breast. Occasionally patients will wish to combine other procedures such as liposuction ("lipo") in Sacramento with their breast reduction to remove fat on the side of the chest and achieve an attractive silhouette and shape.
As with any cosmetic surgery, be sure to follow Dr. Green's instructions regarding taking medications and vitamins, eating, drinking and ceasing smoking.
Your First Step
Unlike some Sacramento plastic surgeons, Dr. Scott Green places great importance on the value of the in-person consultation. He looks forward to meeting with you to learn more about your aesthetic goals. Request a consultation with Dr. Green online and discover what results you can achieve through breast augmentation and other cosmetic surgery options.