Back To Mommy Makeover Gallery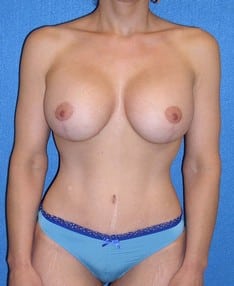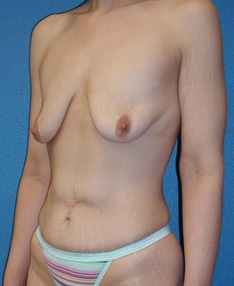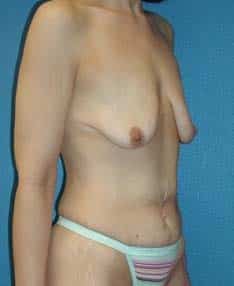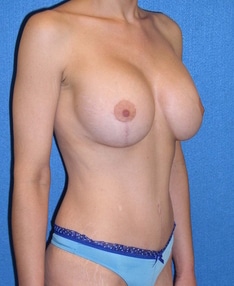 Description:
Following dramatic weight loss, this 34-year-old woman came to my offices for a Sacramento breast augmentation consultation. Upon examining her breasts I found that she had Grade 2 ptosis (sagging) and that her nipples were positioned below her inframammary fold. She had also lost a significant amount of breast volume, leaving her breasts empty and saggy. At 5'5″ tall and 130 lbs, the patient had little breast tissue, so I recommended both a breast enlargement procedure to restore her lost breast volume and a mastopexy (breast lift) to reposition her breast tissues.
Given this patient's significant lack of breast tissue, I suggested silicone implants which in my opinion offer definite advantages over saline for patients who have very little existing breast tissue. In her consultation I noted that after her weight loss, this patient's abdominal muscles had separated slightly from each other, creating a small area of fullness in her lower abdomen and a fair amount of excess abdominal skin. She also had significant excess skin in the upper arm area. I performed a three-step procedure including breast augmentation and breast lift, abdominoplasty, and brachioplasty (arm lift).
This patient is very pleased with her plastic surgery results. She now wears a 34D bra and, as seen in the post-operative photos, her abdomen and arms no longer look saggy. She is enjoying her weight loss even more now that her body looks more trim, and she is very happy with her choice of Sacramento plastic surgeon.
---